Cupcake design factory
Tags
flow
collaboration
teamwork
leadership
creativity
Summary
Welcome to the Cupcake Design Factory. Your role as a team will be to decorate cupcakes following a set of instructions. You will be competing with other teams to see who produces the most beautiful and delicious cupcakes.
Materials
for each team of 5 people
10 cupcakes
Nutella
Sprinkles
Heart lollipop
Green leaf candies
---
SETUP
Provide each team with 10 cupcakes and all the supplies they will need to decorate them.
Each team should have the exact same amount of supplies
Give each team different mission statements
If you have more than 4 teams, then give the same mission statement to more than one team
Make sure teams with different mission statements are spearate, if possible in different rooms, so that they don't see the differences between mission statements.
Mission statements
Team 1 : Focus on quality
As a team, decorate 10 exactly identical cupcakes
Each worker will be in charge of a different task
Worker 1 : Nutella frosting
Worker 2 : Sprinkles
Worker 3 : 1 green leaf candy
Worker 4 : 1 lollipop
Only when a worker has processed all 10 cupcakes can you move to the next stage
1 batch of 10
Elect a factory chief who will be in charge of
Ensuring the quality of the final products
Measuring the time it takes the team to finish their work
Preparing a team debief using the debriefing cube
The team should focus on QUALITY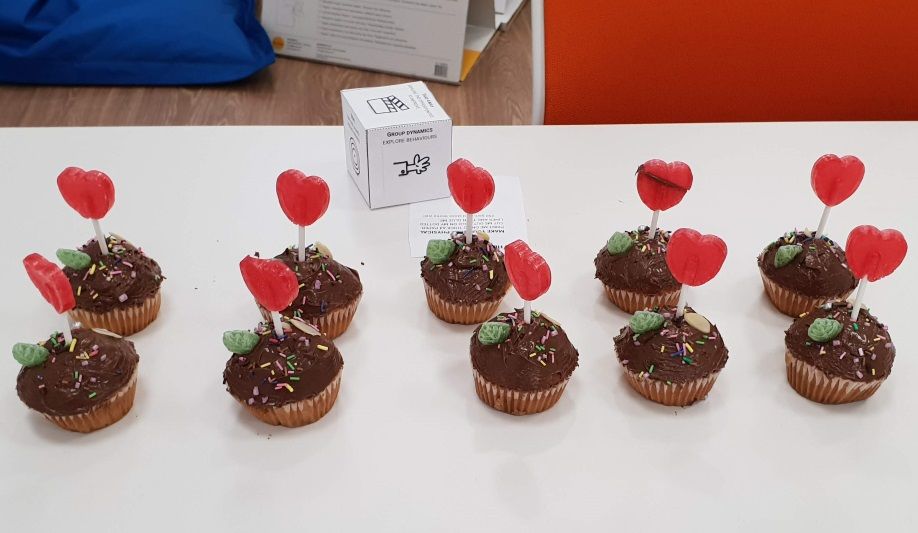 Team 2 : Focus on speed
As a team, decorate 10 exactly identical cupcakes
Each worker will be in charge of a different task
Worker 1 : Nutella frosting
Worker 2 : Sprinkles
Worker 3 : 1 green leaf candy
Worker 4 : 1 lollipop
Only when a worker has processed 5 cupcakes at a time, can you move to the next stage
2 batches of 5 cupcakes
10 cupcakes in total
Elect a factory chief who will be in charge of
Ensuring the products are delivered as fast as possible
Measuring the time it takes the team to finish their work
Preparing a team debief using the debriefing cube
The team should focus on SPEED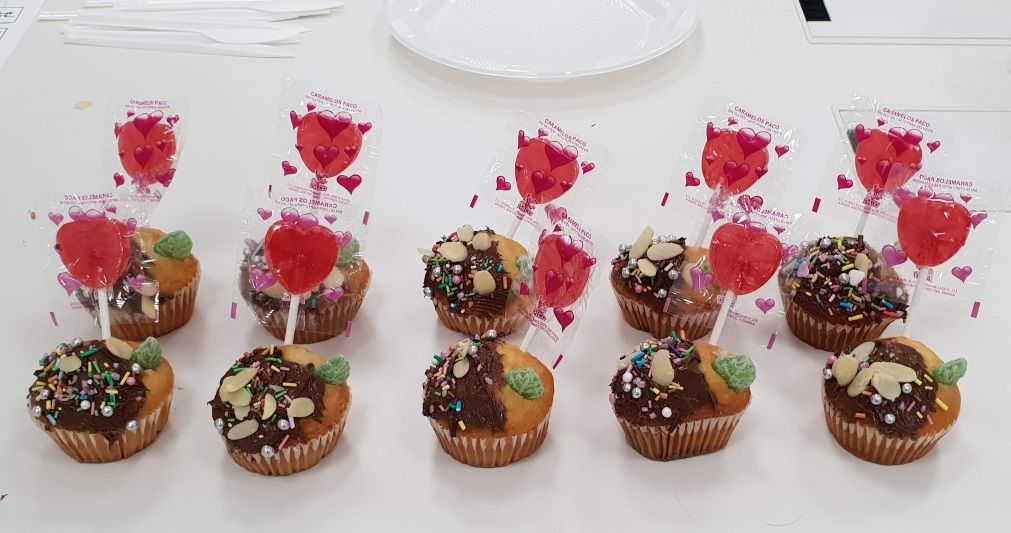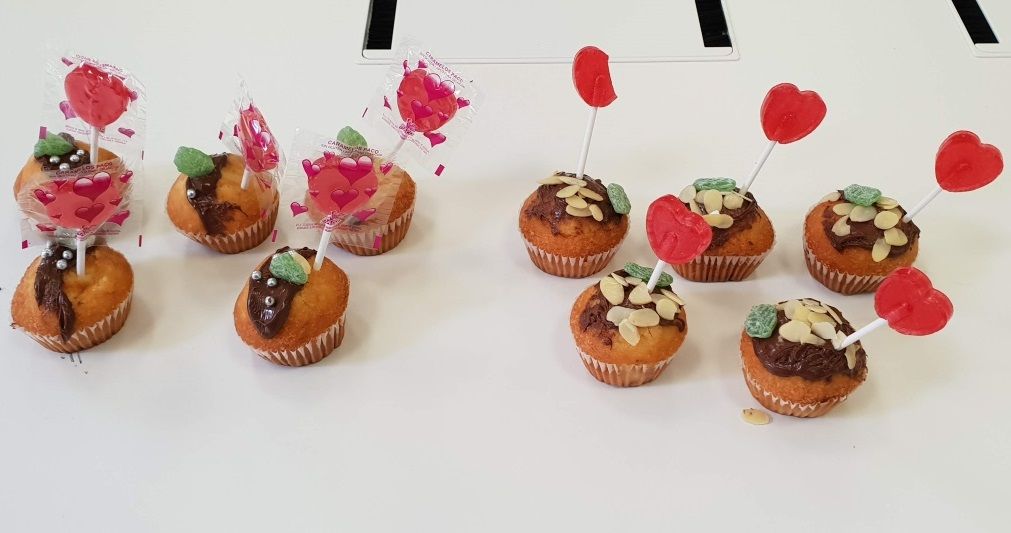 Team 3 : Focus on quality & speed
As a team, decorate 10 exactly identical cupcakes, one at a time
Each worker will be in charge of a different task
Worker 1 : Nutella frosting
Worker 2 : Sprinkles
Worker 3 : 1 green leaf candy
Worker 4 : 1 lollipop
Only when a worker has processed 1 cupcake, can you move to the next stage
10 batches of 1 cupcake
10 cupcakes in total
Elect a team leader who will be in charge of
Ensuring the team focuses on the quality of the final products
Ensuring the team delivers fast enough
Measuring the time it takes the team to finish their work
Preparing a team debief using the debriefing cube
The team should focus on QUALITY and SPEED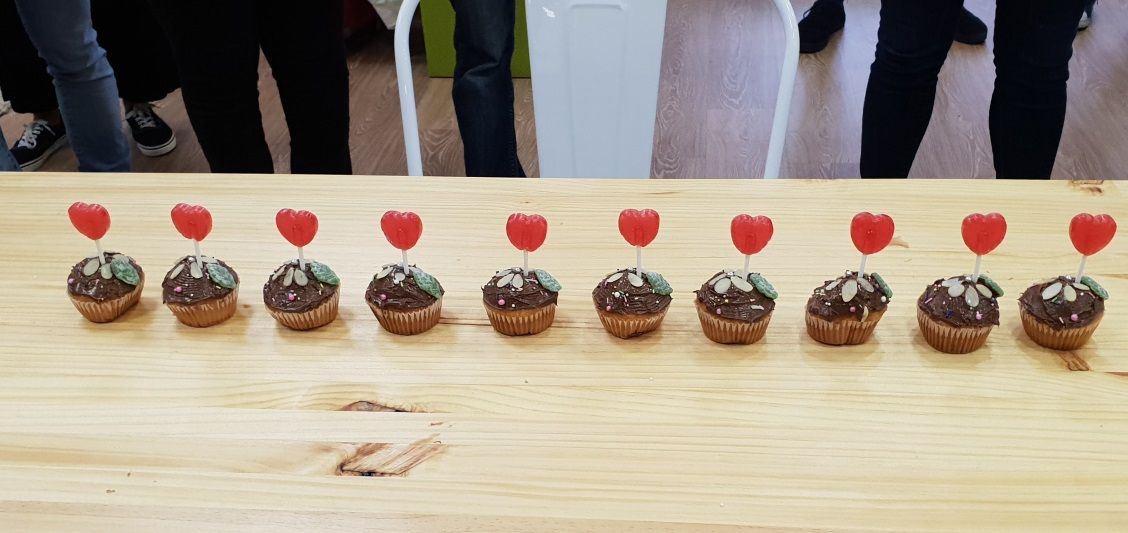 Team 4 : Focus on creativity
As a team, decorate 10 different cupcakes.
Be creative, be bald, innovate!
Elect a facilitator that will be in charge of
Helping the team achieve its goal
Preparing a team debief using the debriefing cube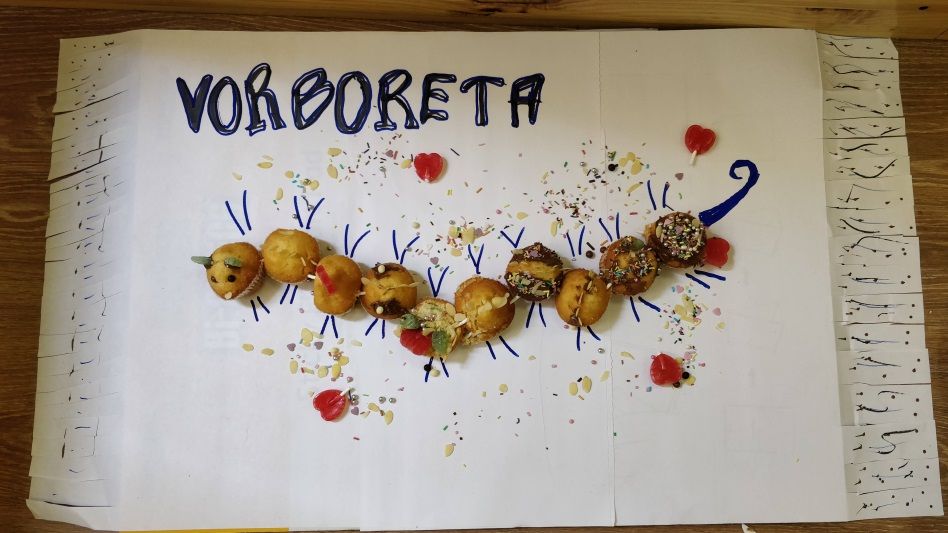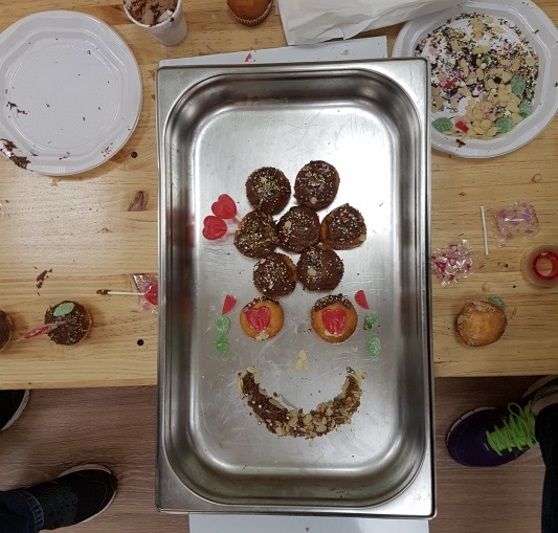 DEBRIEF
Have each team debrief using the debriefing cube
The team leader / factory chief is in charge of the debrief
Give them 5 to 10 minutes to debreif within their team
Have them write down their main discoveries
Share with everyone, going from station to station, comparing end results
Make sure everyone is aware of the differences in mission statements
Compare batch size and measured time for each team
TAKE AWAYS
Speed vs Quality
Fixed process vs Creativity
Command and control vs Leadership
Principle of flow
Batch size matters
Images