The Debriefing Cube
The most important part of a game, except the fun of playing, is the debrief. Unfortunately, most of the time facilitators are not so great at debriefing the game they proposed.
The Debriefing Cube will help you improve your debriefs by using the six lenses
Goal
Process
Group dynamics
Communication
Emotions
Take-away
You can order the wooden version of the cube here.
Rory's Story Cubes®
Imagine telling stories that are dynamic, interactive, fun and randomly generated. Imagine never being stuck for an idea ever again.
Rory's Story Cubes® is the iconic storytelling game that fosters imagination and connection across generations.
The Extraordinaires® Design Studio
Designing for The Extraordinaires® is a cinch. In 3 simple steps you can start your design journey, creating great and amazing inventions, gadgets and buildings.
Chose your character
Pick a project
Create your design
Happy Salmon®
Happy Salmon is the simple, fast-paced card game packed to the gills with high-fivin', fin-flappin' fun.
Actions including the classic "High 5", the unifying "Pound It", the frantic "Switcheroo", and the delightful "Happy Salmon" will leave players doubled over in laughter. With so many mini-celebrations built into the play, it's the happiest game ever!
Meeting Spicers
Looking for a great way to improve the quality of your meetings ? Try the Meeting Spicer cards.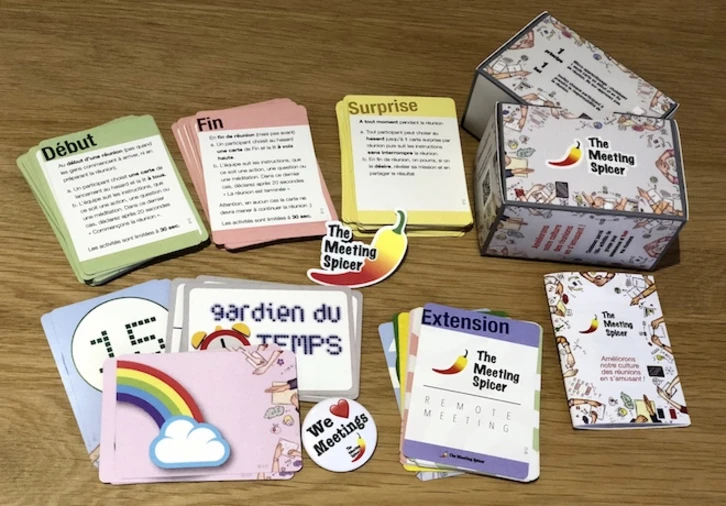 Xtrem Reading
Xtrem Reading is a technique that allows you to read 2 books in 1 hour in a collaborative way, using collective intelligence to process and retain more information. Created by 2 agile coaches from Agile Partner this technique has made it's way to #play14 with a huge success.